Not everyone can afford to invest a ton of money into Bitcoin. Especially these days with inflation, everything is more expensive. However, just like with fractional shares of a stock, you can buy a portion of a Bitcoin, known as satoshis (sats). The more you stack, the better! And the great news is there are some easy and safe ways to get free Bitcoin (or earn it).
These are ordered by the ones which will get you the highest amount of Bitcoin back for free. Also, I always recommend self-custody. This means withdrawing it from exchanges, apps, etc. See different ways to safely store your Bitcoin.
Disclaimer: This post is not financial or investment advice.
Get free Bitcoin by eating or shopping
There are a couple of ways you can get free Bitcoin by eating or shopping. I'll share with you a couple of my favorite ones below.
1. Lolli
You can get up to 30% cash back in Bitcoin or cash using Lolli. They have a free Chrome extension you can activate before making purchases.

However, my favorite feature that they just launched is the card boost option. This works at places like Starbucks, Taco Bell, 7-Eleven, Albertsons, Sam's Club, Safeway, CVS, Shake Shack, Office Depot, etc. You hook up your existing credit card and then activate the booster. You then earn Bitcoin back on top of what your credit card already gives you.
For example, let's say you have the popular Wells Fargo 2% cashback card. You hook that up to Lolli. Now you go to Starbucks. You can activate the booster in the app and get 10% back in Bitcoin. So between Bitcoin and your existing cash back from the card, you're getting 12% back. And it works on Starbucks app refills! This is mind-blowing and I use this all the time.
You can easily withdraw the Bitcoin to an external wallet once you get to $15.00. This is actually pretty easy, I've already passed that. And the fees on withdrawal are incredibly low. On a $20 withdrawal, I was charged $0.07.
Note: The card boost option is only available on the iPhone app in the US at the moment. However, they said Android is coming soon!
2. Gemini
You can get the Gemini credit card and earn 3% back in Bitcoin at restaurants and fast food, and 2% back in Bitcoin at grocery stores. It's a Mastercard and beautiful stainless steel with NFC. I pretty much use this card for anything that Lolli doesn't work for. It's great to be able to get 2% back when I shop at Sprouts and Krogers for groceries.
The other amazing thing about Gemini's card is you get the Bitcoin back instantly into your account. There is no waiting until the end of the month. So this can be a great way to DCA while prices are down.

If you're wondering, no you cannot hook up your Gemini card to Lolli. That would be even more amazing.
Note: This is only available in the US right now.
3. Fold
Last but not least, I also utilize the Fold card. You can get a good amount of Bitcoin back. It's also a really fun app to use.
Another awesome trick is to hook this up with PayPal Bill Pay. For example, use a normal 2% cashback credit card. Pay off the card using Fold as the source for PayPal Bill Pay. I regularly average 4% back using this method. If you also happen to be using it at a place that works with Lolli, you can stack an insane amount. For example, at Starbucks, I can get 10% back with Lolli, 2% back with my credit card, and an average of 2% back with Fold, for a whopping 14% back.
Get free Bitcoin by taking quizzes
You can get free Bitcoin by taking quizzes on Coinbase and learning about different cryptos. I've earned $80 worth of Bitcoin doing this, and it only takes a couple of minutes for each quiz. All you have to do is sign up for a Coinbase account and head over to the "Earn" section once you're inside.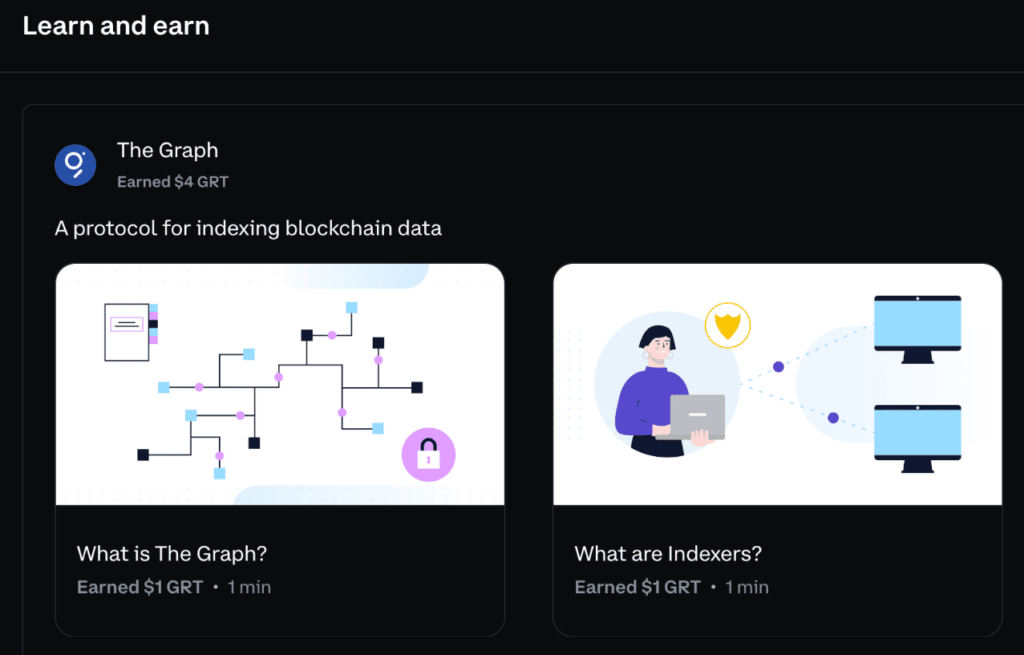 Quizzes will start appearing periodically once your account is opened. You will earn in the crypto that you learn about. What I do is immediately convert that to Bitcoin and withdraw it to my external wallet.
Get free Bitcoin by reading
That's right, you can get free Bitcoin (sats) by simply reading. The catch is that you are learning about Bitcoin. This works great for me because I'm already going to be doing this anyway. Might as well stack sats while I'm doing it.
Install the free Carrot app on your phone (iPhone or Android).
Get free Bitcoin by walking
That's right, you can get free Bitcoin (sats) just by walking. Just install the free sMiles app on your phone (iPhone or Android). There is even an Apple Watch app! Everything is powered by the Lightning network (on top of Bitcoin). You can also spin Satoshi's Wheel once a day to win free sats.

I love this app because it's a simple, free, and effortless way to stack sats. Get sats for something you're already doing.
Get free Bitcoin by playing games
There are a ton of great free games you can play where you can earn Bitcoin (sats). However, some of my favorite ones are those from THNDR Games.
Three of my favorite apps for your phone include THNDR Bay (bubble shooter), Satsss (classic snake), and Turbo 84 (car racing). They are all available for iPhone and Android. See them here.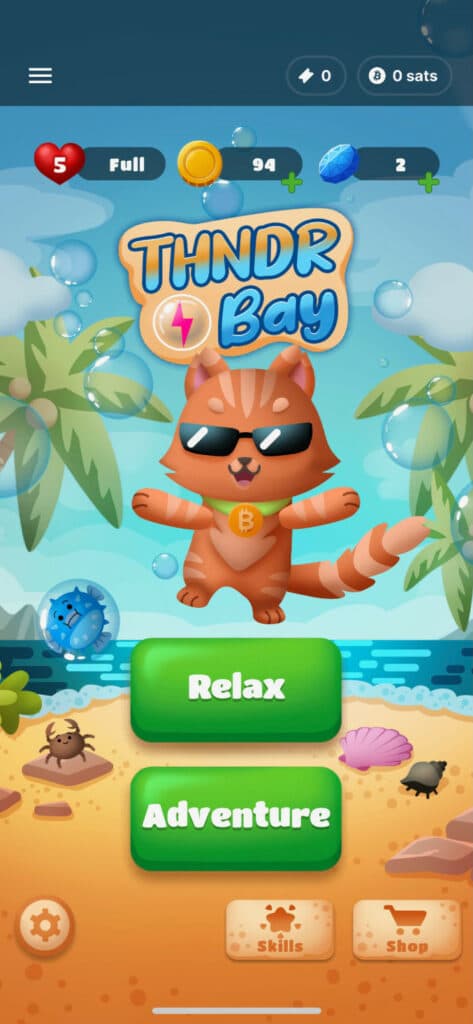 Get free Bitcoin by listening to podcasts
Do you listen to a lot of podcasts? Well, why not earn free Bitcoin while doing it? You can now do that with the Fountain app, available for iPhone and Android. Use my referral code: @brianleejackson-62150530be
I earned over 800 sats within about 10 minutes of launching the app and listening. The cool thing is I would already be listening to podcasts anyways, might as well stack some sats while I do it.
Get free Bitcoin by sharing
You can get free Bitcoin by sharing content and news about Bitcoin! Introducing Stacker News. It's like Hacker News, but for all things Bitcoin. You can earn sats just by sharing quality content and getting upvotes.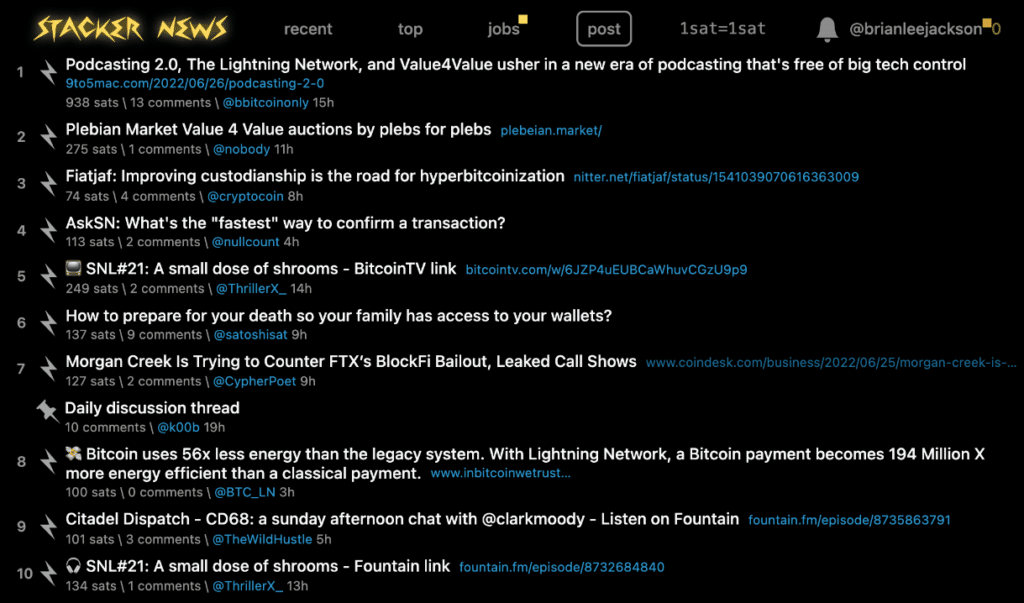 Get free Bitcoin by tweeting
You can get 25 sats for free just by tweeting! Go to https://boltcoiner.io/. You will also need a Lightning address. I recommend Wallet of Satoshi, or if you want something really easy, Alby (Chrome extension). Just enter in your Lightning address, send out the tweet provided, and boltcoiner will send you 25 sats.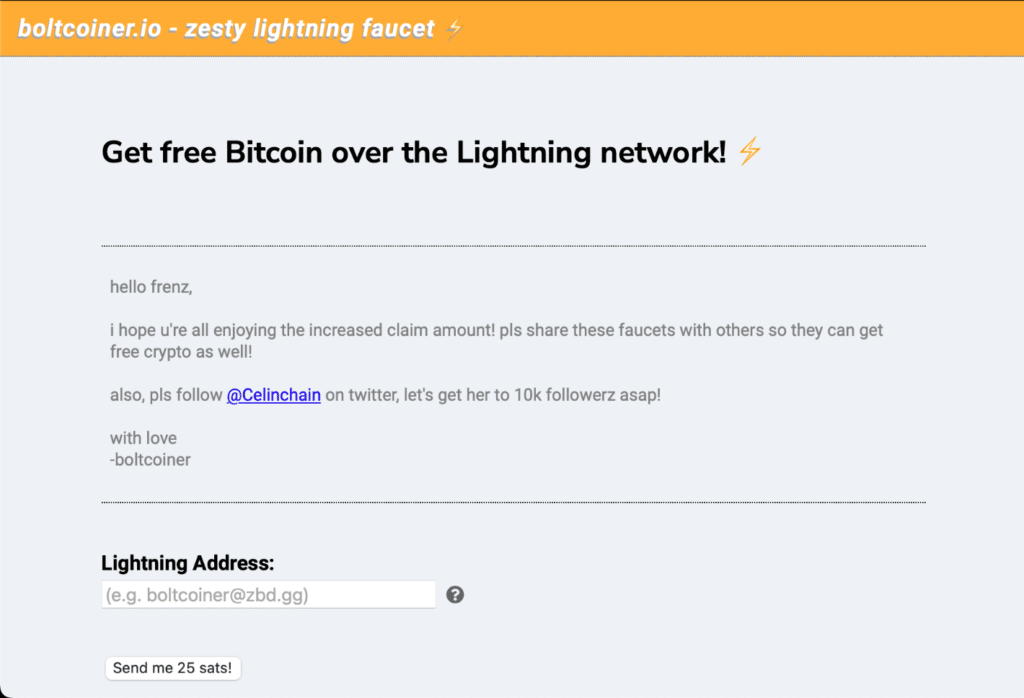 Summary
Many of the tricks above aren't going to make you rich overnight. Just like when you DCA, it's a matter of building consistent habits. Remember, Bitcoin is Number Go Up Technology (NGU). It's deflationary and will always trend higher with time. So the more sats you stack now the better!
It can also be a great way to start learning how to send and receive Bitcoin, using a wallet, understanding The Lightning Network, etc. Make sure to check out my blog post on how I got orange-pilled on Bitcoin and why you should HODL some.
I'll make sure to keep adding new ways to get Bitcoin for free to this post as I discover them. If you know of any I missed, please drop them in the comments below. Anything except for yield earning platforms. Not your keys, not your Bitcoin. 😉